A List of Mocktails to Enjoy Sober at Every Occasion
Booze, like a best friend and a worst enemy, can seem ever-present at pivotal life moments. When you give up drinking, saying no to champagne toasts at weddings and beer at the beach can feel like saying no to not only a drink, but part of an experience. This is where the wonderful, wide world of non-alcoholic drinks swoops in to save your day and enrich your alcohol-free life. Banish your FOMO for good with this list of delicious non-alcoholic beverages to compliment every occasion.
Toast With These, Please
Ingredients:
- 2 oz. fresh squeezed grapefruit juice
- 1 oz. fresh squeezed lime juice
- Fennel-citrus salt
- Q Tonic club soda
Instructions:
Combine the grapefruit juice, lime juice, and agave nectar together in a strainer and shake. Rim collins glass with fennel-citrus salt and add ice. Pour mixture into the glass and top with tonic.
Ingredients:
- 7-8 blueberries
- 1 rosemary spring, stripped
- 1 oz. honey syrup
- 1 oz. fresh lemon juice, strained
- 4 oz. sparkling mineral water

Instructions:
Gently muddle blueberries, rosemary leaves, and honey syrup in the bottom of a cocktail shaker. Add lemon juice and shake, covered, with ice vigorously for 10 seconds. Strain through a mesh strainer into a tall glass of fresh ice. Top with sparkling water and stir to incorporate.
Ingredients:
- ½ gal. apple cider
- 1 qt. white grape juice
- 1 bottle sparkling apple cider
- 8 oz. orange juice
- 8 tsp. star anises
- 3 large Golden Delicious apples

Instructions:
In a punch bowl or large pitcher, combine apple cider, grape juice, sparkling cider, and orange juice. Add star anises and slices from 2 apples. To serve, fill tumblers with ice. Garnish each with 1 apple slice.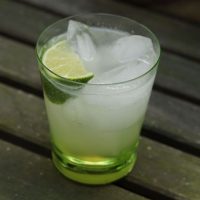 Ingredients (serves about 2 quarts)
- 1 cup sugar
- 1 cup water
- 1 cup lightly packed fresh mint leaves, washed with stems removed
- 1 cup freshly squeezed lime juice
Instructions:
Club soda Make mint simple syrup by combining sugar, water, and mint in a saucepan and bringing it to a boil then immediately allowing it to simmer for 2 minutes. Remove from heat and allow to cool completely. Strain the leaves. To assemble the limeade, add about 1 ounce each of the simple syrup and lime juice in a tall glass filled with ice. Top with about 6 ounces of club soda. Stir. Garnish with fresh mint or a lime wedge.
Stay Chill With These Coolers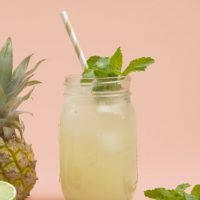 Pineapple-Mint Mojito Mocktail
Ingredients:
- 10 fresh mint leaves, plus more for garnish
- 1 tsp agave nectar
- 1/4 c. pineapple juice
- 1 lime, juiced
- 1/2 c. club soda
Instructions:
In a cocktail shaker, muddle mint leaves with agave nectar. Add pineapple juice, lime juice, and ice and shake vigorously for 15 seconds. Strain into a tall glass filled with ice and top with club soda. Garnish with a sprig of mint.
Fizzy Watermelon Mocktail
Ingredients (there's only two!):
- 1 cup cubed watermelon
- 2 cups seltzer

Instructions:
Start with one cup of cubed watermelon and two cups of seltzer. Give it a whirl in the blender and pour it into glass for a refreshing afternoon cocktail.
Grab Your Mug and Get Cozy
Crockpot Non-Alcoholic Hot Toddy
Ingredients (serves 12):
- 4 quarts water
- 8 herbal tea bags
- 1-2 inches fresh ginger, thinly sliced
- 4 cinnamon sticks
- ⅓ cup honey
- 2 lemons, sliced
Instructions:
Place water, tea bags, ginger, cinnamon and honey in a crockpot on highest setting. Steep for a couple of hours until hot. Ladle into cups and add lemons when your guests arrive
Ingredients:
- 2 shots just-brewed espresso
- 3 tablespoons malted milk powder
- 1 teaspoon unsweetened cocoa powder
- ½ teaspoon vanilla extract
- 1 cup steamed milk
- Sugar to taste (optional)
Instructions:
Stir together espresso with the malted milk powder, cocoa powder, and vanilla until dissolved. Top with frothed milk. Add sugar to taste (optional).
Hey, when we said we weren't drinking anymore, we didn't mean we weren't drinking anymore. Bottoms up, buttercup!
As Workit Health's Community Lead, Kali Lux leans in to the culture gap between addiction, recovery, and medicine. She's interested in finding solutions that work for substance users better than drinking or drugging does, and believes Workit is one of them. She's written extensively on her own experience through addiction into long-term recovery. Connect with her on Twitter @kalireadsbooks.